Chevy Silverado 2500 Heavy Duty Trucks in Anniston
Find the Strength and Power You Need to Tackle any Job
Built for the long haul, the Chevrolet Silverado Heavy Duty trucks offer the kind of durability, dependability and capability that you expect from the longest-lasting full-sized pickup trucks traveling the roads today. In fact, the Silverado HD trucks have taken home the J.D. Power award for "Most Dependable Large Heavy Duty Pickup" for three consecutive years!
Don't make the mistake of thinking that these are basic workhorse trucks, however. Behind their rugged exterior lies a cabin that rivals that of luxury executive sedans, with sound-deadening materials and a triple-sealed door helping to eliminate road noise. Comfortable seats make spending a day on the roads between Pell City and Gadsden less tiresome, while steering wheel controls, USB ports and the MyLink 7-inch color touchscreen display can transform the truck's interior into a mobile office space.
Of course, the real drawing card for the Silverado HD is always going to be its performance. Thanks to two powerful V8 engine options, including a turbo diesel Duramax that can deliver up to 445 horsepower and 910 pound-feet of torque, Silverado HD owners have the kind of towing and hauling capability that are the envy of other Jacksonville, AL area truck owners. The 2500HD is rated to tow up to 18,100 pounds, while the 3500Hd can tow up to an 23,300 pounds. Add in the abundant towing technologies that help you stay in control, and you can haul with complete confidence that you -- and your load -- will reach your destination with ease, no matter the road conditions.
For our money, the Silverado HD is the best choice for our customers that need a hard-working pickup. We invite you to visit our Anniston showroom -- a convenient drive from Oxford, AL -- and take a closer look at both the 2500HD and 3500HD models. We're always glad to answer any questions you may have, since we believe that an informed decision makes for a happy customer.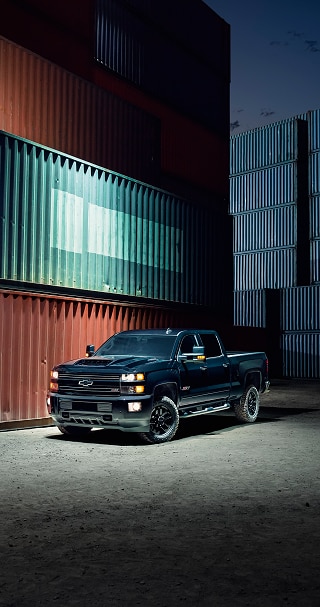 New 2020 Chevy Silverado HD is Coming Soon to Anniston, AL
As the next decade is almost upon us, auto manufacturers around the world are gearing up to provide true next-generation versions of their current lineup. For the 2020 Chevy Silverado HD, drivers from around Anniston should be very excited. Everything about the new Heavy Duty Silverado is more advanced than ever, and the year 2020 is going to represent far more than just your typical update.
What's New For 2020?
Suffice it to say; there's a lot that's new about the 2020 Chevy Silverado HD lineup. It all begins with the engine options, which will be all new even at the standard level. A new 6.6-liter gas-powered V8 is the standard engine that comes mated to a refined six-speed automatic transmission. Its power numbers are up this year as well, outputting 401 horsepower and 464 pound-feet of torque. That's an 11 percent and 22 percent increase over the previous year, respectively.
The second option, is an all-new 6.6-liter Duramax Turbo Diesel V8, which outputs 445 horsepower and 910 pound-feet of torque. What's more is that this engine is paired with a new 10-speed automatic transmission and that the Silverado HD has been completely overhauled between the transmission and the wheels, resulting in a 52 percent increase in towing capacity, which now clocks in at an impressive 35,500 pounds.
In terms of technology, the 2020 Chevy Silverado HD expands on the trailering capabilities of the previous year. The big new addition is a new transparent trailer view that lets you see through what you're hauling. A whopping 15 available camera views give owners the most comprehensive perspective of everything surrounding their trailer, empowering them with the confidence they need to tow the right way.
The Most Comprehensive Heavy Duty Truck Money Can Buy
The 2020 Chevy Silverado HD is set to redefine everything we know about what a Heavy Duty truck can do. If you're ready to experience unbridled power and performance, you're ready for the 2020 Chevy Silverado HD.