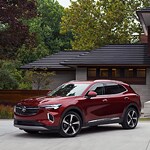 The Buick Envision Avenir is the latest and greatest car from the Buick lineup. It features an impressive array of safety features that make it the safest car on the road. If you are looking for a car that will keep you and your family safe, then the Buick Envision Avenir is the perfect choice!

Some of the safety features that are available on the Buick Envision Avenir include:
- Blind spot monitoring with rear cross traffic alert: This feature is designed to help you avoid accidents when changing lanes or backing up.