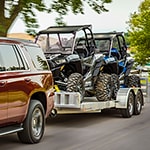 Being able to tow with your vehicle is a great addition to many modern vehicles. No one wants to have to rely on hiring a moving truck or borrowing a vehicle from a friend. However, towing with knowing what you're doing is a no-go.
Before towing for the first time, make sure you've hooked everything up correctly. This includes all wiring, the receiver hitch, and the coupler.
Once you're on the roads of Anniston, AL, you need to drive differently. This means giving yourself plenty of room when changing lanes, braking, and accelerating. Be wary of surrounding traffic, as it's going to take you longer to shift directions and slow down to the increased weight of the trailer behind you. You should also be on the lookout for trailer sway, which can be triggered by downhill acceleration and high speeds.