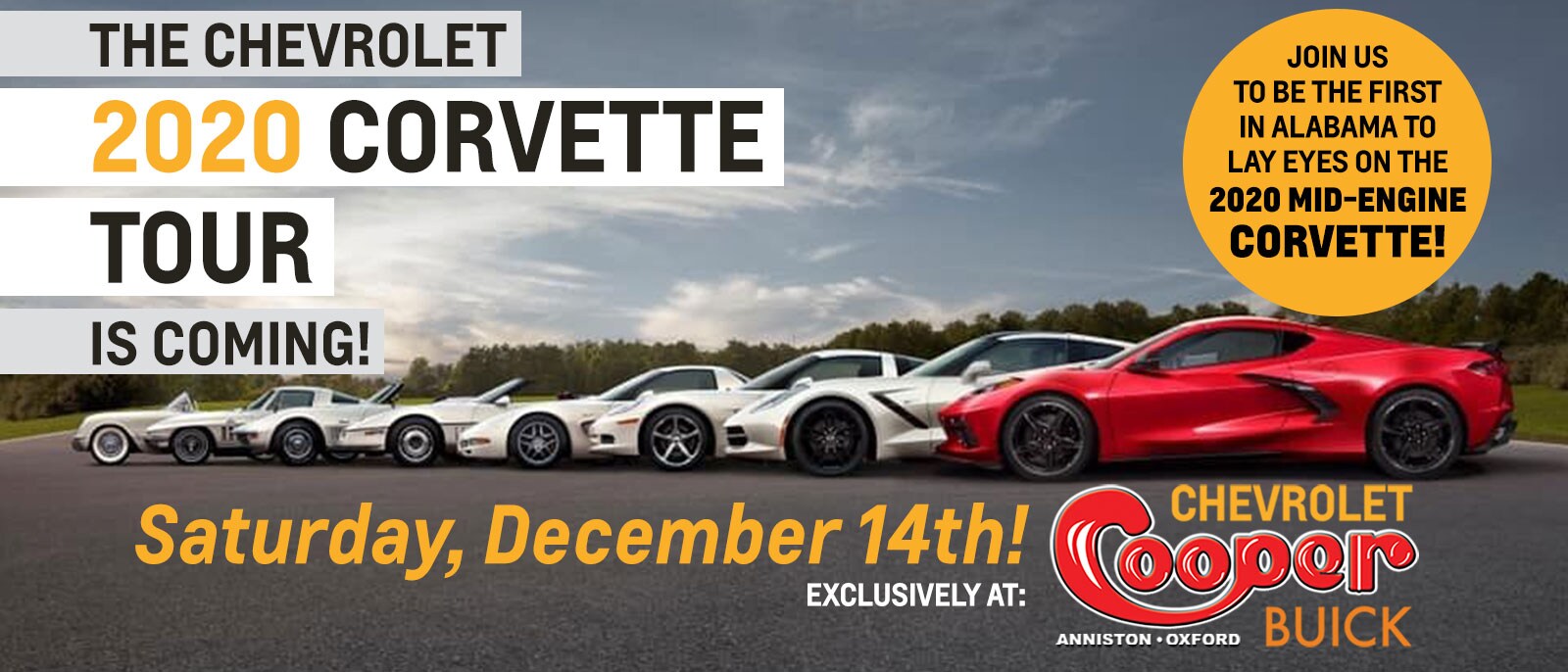 The hotly anticipated new 2020 Corvette Stingray is coming to Cooper Chevrolet Buick in Anniston, AL on Saturday, December 14.
Get the First Look at the New Stingray C8
The new mid-engine C8 Corvette features an all-new design inside and out, and will be making a stop at Cooper Chevrolet Buick for enthusiasts to come out and get a first look before it hits showrooms later in 2020. Open to the general public, all guests will get a hands-on look at the new Corvette guided by Corvette specialists who can answer questions about the many innovations present in this exciting new Stingray.
RSVP for Early Access
Current Corvette owners can get the first look at the most anticipated Corvette model in years by submitting an RSVP online or by calling Cooper Chevrolet Buick at (256) 236-4481. Current owners can arrive as early as 8:30 AM to discuss the details of the new Corvette Stingray with the Corvette experts that will be on hand for the debut and to have a more personalized interaction.
Open to the General Public
The Chevrolet 2020 Corvette Tour on December 14 is free and open to the public. All interested parties can stop by Cooper Chevrolet Buick at 1300 S. Quintard Ave., Anniston, AL between the hours of 11:00 AM and 4:00 PM to get an up close and personal look at the new mid-engine supercar. Door prizes will be given away throughout the day and refreshments will be served, so come join us for the unveiling of the new 2020 Corvette Stingray!
For more information about the event or the new mid-engine Corvette email us at corvettetour@cooperchevrolet. For more about our extensive inventory of new Chevy and Buick vehicles, give us a call at (256) 236-4481.